Farnborough Hall Hire - Hall for Hire in Farnborough
Our friendly Bar Team are ready to serve you.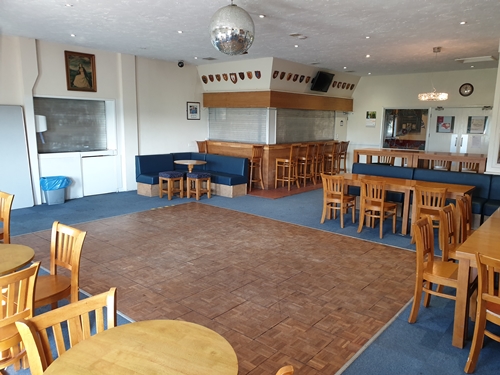 Farnborough Rugby Club Function Room
Farnborough Rugby Club Function Room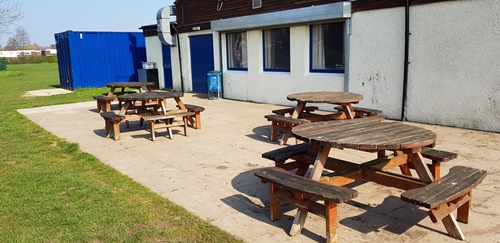 Patio / Seating Area (rear of Function Room)
We will soon be taking bookings for 2024 and beyond... Hire our hall / function room for you event ! Hire our Hall in Farnborough for Weddings, Meetings, Parties and any other event !
The best way to get in contact is via the Club e-mail (below) ) or see Bar Manager Mick O'Donoghue.
Email - hall-hire@farnboroughrugby.co.uk
Telephone - 01252 542750 (when club is open only)
We are always happy to show you around- pop in on a Saturday or Sunday
When enquiring please give as much information possible:
Date

Times

what the event is
All enquires are subject to availability and confirmation by the bar manager. Please read our FAQ's below.
FAQ's
1. How much to hire the club
non-member hire £150 / members price £60 - including bar staff
2. Do you hire the kitchen so we can cook hot food.
No, sorry it is a commercial kitchen and you need to be trained to use it.
3. Can we hire our own DJ
Yes, you can
4. Can we bring cold food and can you store it
Yes we can store cold food you bring
5. Do you sell alcohol to under 18s
NO - FRUFC Ltd, takes its responsibilities in the sale of alcohol to underage persons seriously . ID may be asked for.
Any person purchasing alcohol for underage people will be asked to leave the premises
6. Do you hire for 16th to 21sts Parties
If an event is booked for ages 16 to 21 without the knowledge of the CLUB and is apparent that the booking has been made hiding this fact:
the BAR MANAGER has the right to close the bar, ask the guests to leave, power turned off to any music and if necessary, call authorities.
Any event where young persons are attending the event organiser is responsible for guests purchasing alcohol for underage people.
In the event of the above the CLUB reserves the right not offer any refund or return of deposit paid.
7. How long does it take to hear back on my enquiry.
We try and reply as soon as possible, the club is run by volunteers so at times it may be a few days while we check bookings and fixtures.
8. Can we hire week daytimes
We have a booking Monday to Friday term times so can't take additional bookings
9. Can we set up earlier
We try to accommodate this whenever possible
Please Note the following:
---
The Club Function Room / Patio Area
Following a major clubhouse extension in 1999 and complete replacement of the kitchen with modern facilities in 2010, a major facility refresh took place in April/May 2015.
This involved complete refurbishment of the entrance hall and main Club room including the:
Club Facilities & Function Room available for hire at competitive rates:
We can provide / include:
We Do not Provide:
Catering Services

DJs / Bands

Bouncy Castles
To hire the hall or the facilities please e-mail hall-hire@farnboroughrugby.co.uk